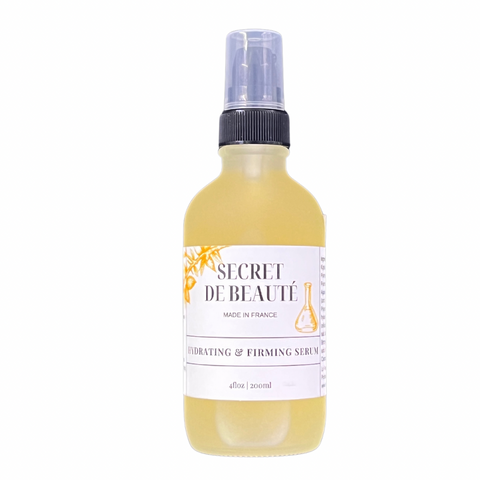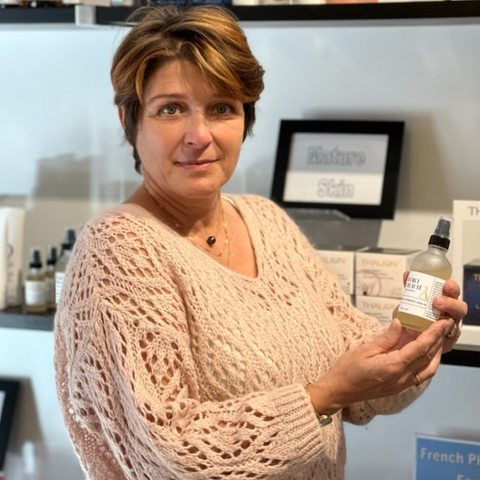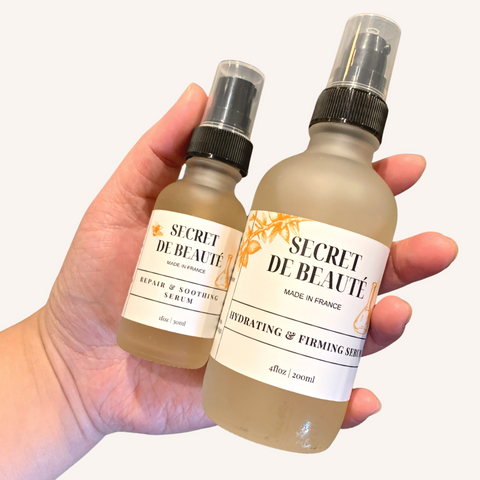 Secret de Beauté Firming and Hydrating Serum
What is it?
A serum that firms and restores elasticity to your neck and decolette.
Benefits:
Secret de Beauté is the founder Helene's own creation.
As a cosmetic chemist, Helene has been searching for a serum that could truly firm the skin, especially the neck. In desperation, she created her own: mixing the 3 best known ingredients to address the issue.
The 4oz size allows you to lavish your skin and get results.
These ingredients are at a very high percentage within the formula resulting in visible results after 1 month of use.
A

rgan stem cells induce deep skin rejuvenation (they have an epigenetic factor i.e. Argan stem cells revive themselves). In a young skin, mother cells divide and produce daughter cells that will live and die. After menopause, the mother cells are less active and produce fewer daughter cells resulting in a thinner and saggy skin. By using Argan stem cells, the mother cells can produce new skin surface cells and new deep dermis cells such as collagen and elastin-producing fibroblast. As a result, the skin becomes thicker and firmer.

M

atrixyl 3000 Micropeptides has a proven anti-wrinkle effect and is at a 3% level in the formula.

2 type of

Hyaluronic Acid, high molecular weight helps plump lines, making them less visible. Lower molecular weight gently exfoliates the skin and also has an anti-inflammatory effect.
How it feels:
How to use:
Use a drop per area, massage well in the skin insisting on any visible lines.
Start every other night for 8 days, then every night.
Start using every other morning, then every morning.
Follow with a face or body cream.

Ingredients:
Aqua, Aloe Barbadensis Leaf Juice, Glycerin, Isomalt, Argania Spinosa Callus Culture Extract, Palmitoyl Tetrapeptide-7, Palmitoyl Tripeptide-1, Sodium Hyaluronate, Acrylates/C10-30 Alkyl Acrylate Crosspolymer, Phenoxyethanol, Benzyl Alcohol, Sodium Hydroxide, Butylene Glycol, Carbomer, Polysorbate 20, Ethylhexylglycerin, Lecithin, Sodium Benzoate.
Reviews (scroll down to write a review)