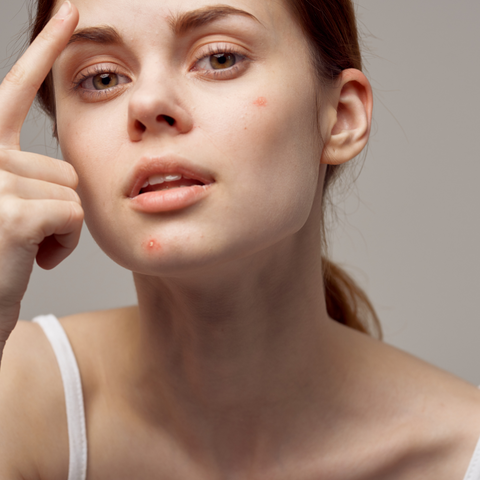 Hexomedine Transcutanee
What is it?
A spot treatment for red, inflamed and infected acne pimples and ingrown hair.
For more info fill up our 
questionnaire
for personalized tips and samples.
Please limit your purchase to 2 units, your order will be cancelled otherwise, thanks
Benefits:
Dries pimple in 48 hours, reduces redness, swelling and bacterial infection. 
If your skin is sensitive try Hexomedine Gel or alcohol free Bioderma cicabio lotion
Helps clear active ingrown by drying out infection and reducing inflammation. To allow the ingrown to move out you or prevent ingrown use Noreva Kerapil  to gently exfoliate and hydrate the skin.
Prevents acne scaring thanks to its anti-inflammatory action. To complete scar prevention we recommend applying  Secret de beaute to reduce inflammation, red & brown pigment and help repair the skin.
Hexamidine Di-isétionate is used in formulas to preserve cosmetic products. If it were to lose its effectiveness after a while it would not be used in skincare products as an active ingredient to prevent bacteria and fungus growth.
How it feels:
clear liquid, can sting as it has alcohol
How to use:
Use 2 to 3 times a day with a q-tip.
Do not use on large areas.
Tips: this is only a spot treatment if you have active acne answer the questionnaire, I have helps many of my spa clients get out of acne with simple changes.
Dealing with acne starts with understanding why pimples form.
Pimples start when dead cells are glued with oils inside the pore (comedone). It gets bigger and eventually breaks inside the skin and creates an inflammation (red pimple) then gets infected (cyst).
Unfortunately we try to wash it off, dry it out and exfoliate it out. 
All this dehydrates the skin and it not only traps the oils under the skin but triggers the skin to produce more oils and slowly it gets worse.
You cannot rid acne but if you GENTLY exfoliate the comedone out AND keep the skin well HYDRATED, the oils will flow out.
1- do not overwash
2- ice or reduce inflammation (secret de beaute)
3- check for comedogenic cosmetics or lifestyle
4- hydrate
5- exfoliate slowly
Ingredients:
Hydroxyethylcellulose, acetic acid, SD 40 alcohol, water, hexamidine Di-isétionate.
Reviews (scroll down to write a review)
Clarissa
"Anyone with big, mad, red monsters needs this
I have struggled with acne since my teen years. It used to solely be cystic, and then into adulthood calmed for a brief moment, until my hormones went haywire and food sensitivities increased. I almost always have at least one LARGE angry pimple, mark, irritation on my jaw, chin, or neck and have tried EVERYTHING. So when I got this product (about 1 week before posting review) I immediately applied it to a large under the skin spot on my chin(Night 1). By the following morning it had come to a head, so I reapplied after washing my face and before following my usual skincare/makeup routine(Day 2). By that evening when I had come to wash my face, the spot basically cleared itself. So I applied for a 3rd time(Night 2) after cleaning the spot, and the next morning (Day 3) my skin was flat, and just the tiniest post inflammatory mark was visible. Idk, how long it is recommended to apply in a row, but so far I have not experienced any dryness or irritation so it seems 3x is okay for my skin. I would recommend trying this if you too struggle with large stubborn spots."
KK
"Miracle
I've been struggling with hormonal acne for the past few years. I'm allergic to most acne medications and have tried everything. I also have a picking habit which of course makes everything more visible and worse. I haven't had the product long, about a week or so but it's cleared up my face so much I'm in awe. I never thought I'd find something that works for me but it looks like I finally did."